Project Description
Midlothian Heritage High School
Midlothian Heritage High School is a new construction project.  The high school is a 250,000 square foot main education building. In addition, some smaller structures were included in the project. Those additional buildings included a field house, an agricultural shop, concession buildings for athletic fields, and more.
Key Project Data
K-12 Education Building

250,000 square feet

Designed in Revit MPE
Midlothian Heritage High School  – Comparing MPE Engineering Design Options
As the Dallas/Fort Worth experts in K-12 engineering design projects, RWB set out to offer multiple design options for Midlothian Heritage High School. MEP designs are not created equally. School districts must prioritize the features that are most important to them. Some of the variables include:
Efficiency
Initial cost
Ongoing operational costs
Maintenance requirements
Sound levels
For this project, RWB sought out system cost and efficiency data for multiple MEP design in different school districts. Three system designs were put under closer consideration: rooftop units (RTUs); four-pipe chilled and hot water systems; and a geothermal system. Ultimately, the team narrowed down the options to the 4-pipe system and the geothermal system.
The two design approaches were compared on system efficiency, installation cost, and maintenance cost. This detailed analysis included items that are commonly overlooked. Som examples include: an annual maintenance contract, water usage, and chemical usage costs. These costs vary depending on the system type so it is important to include them in an analysis.
The findings that RWB compiled were presented to the design team, including the architect, facilities team, and school board. In the end, the team decided on a geothermal system.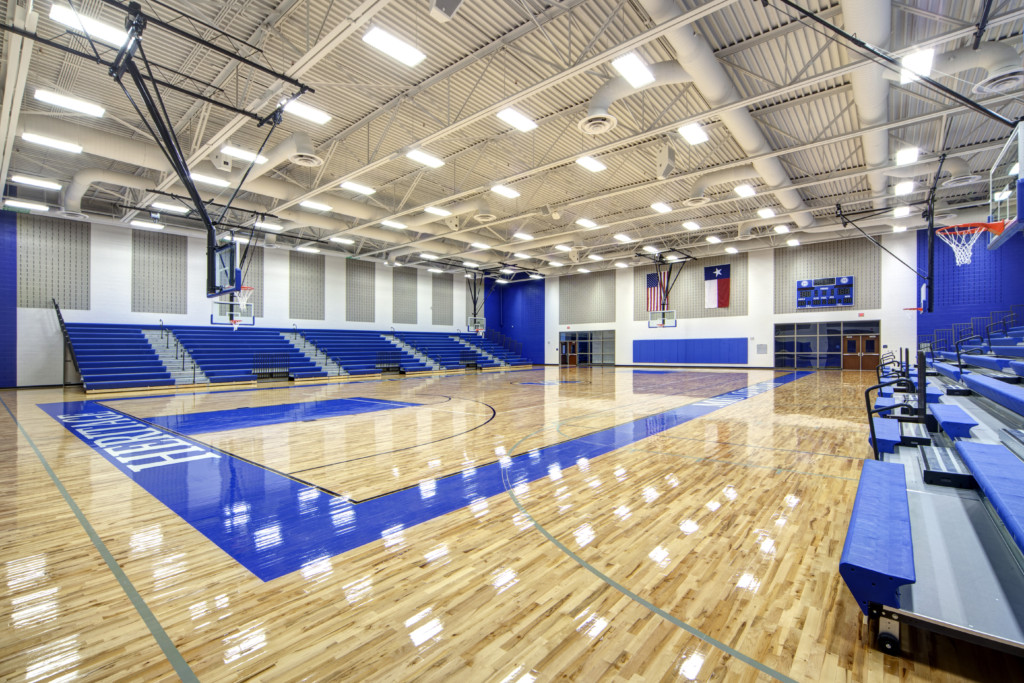 Energy Efficient Design Engineering for Midlothian Heritage
Because this project is a public building, keeping ongoing operational costs low was a priority. Most K-12 schools have a limited budget for ongoing utility costs, so engineering the building to use less energy is top-of-mind when we work on these projects. RWB sought out opportunities to incorporate efficient design elements to Midlothian Heritage High School. In particular, our plumbing and engineering consulting teams were able to optimize many portions of the design. Some examples include:
High efficiency lighting design with occupancy sensors and multi-level switching throughout.
In coordination with the design team, architectural and accent lighting was adjusted to minimize the energy usage.
Low flow plumbing fixtures were used to minimize water consumption.
Water-to-water heat pumps to pre-heat the main water heaters. The water heaters primarily serve the locker rooms and kitchen in the main building.
In addition, RWB provided options to the School District for building site lighting. Two versions of site lighting were design: a baseline design using metal halides, and an alternate design using LEDs.
Expert Engineering Design Services for MHHS
The Midlothian Heritage High School project was designed entirely in Revit MEP. RWB is proud to have a team of highly-trained engineers in all disciplines to support design projects in Revit.
Additionally, RWB has experienced professionals in geothermal design. Not all design firms are able to confidently deliver a geothermal design that works. RWB has many successful geothermal engineering projects in their portfolio, including Midlothian Heritage High School.
If you are seeking expertise in K-12 mechanical, electrical, or plumbing engineering, please contact us.